Interhome Construction Inc. is a leading full-service commercial construction contractors that strives to deliver professional and effective commercial construction services in Toronto and the GTA. With over 13 years of experience in the construction industry, our team of Toronto's commercial contractors is highly competent in delivering the maximum value for our clients with exceptional quality construction work.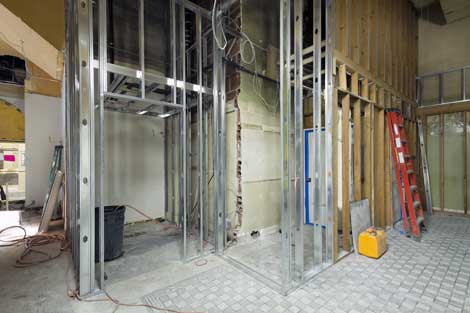 Toronto's Experienced Commercial Contractors At Your Service
At Interhome Construction Inc., our commercial general contractors in Toronto are always ready to take on new commercial construction projects and work on them with professionalism and dedication. With in-depth knowledge in the construction field, years of expertise, significant resources and a talented team of contractors, we take on any construction challenge with a promise to deliver quality building work.
We follow the latest standards in the industry and adapt to changes so as to maintain a high level of performance that exceeds your expectations. We have earned a positive reputation by delivering quality work and completing projects on time and within budget.
No matter what your project needs are, from exterior and interior demolition, new build or renovations, commercial painting and tiling, concrete construction, removal and cutting, we will meet the needs of the project.
Our commercial construction services include:
Commercial Construction
Commercial Renovations
Construction Management
Project Management
New Additions
Commercial Painting
Plumbing
Electrical
Exterior Renovations
Commercial Tiling
Concrete Removal & Cutting
Interior Demolition
Exterior Demolition
Concrete Construction
Footing & Foundation
Structural Construction
Our commercial construction projects include:
Office Renovations & New Construction
Medical Office Renovations & New Construction
Restaurants, Bars & Clubs
Hair & Nail Salons
Dentist Offices
Churches
Educational Facilities
Warehouses
Plants & Factories
Underground Garages
Apartment Buildings
Condominium Buildings
Your Long-Term Commercial Construction & Renovation Experts
Whether you are a large, small business owner or property owner, our goal remains the same, i.e. providing top quality work on time and budget. Our crew of commercial general contractors in Toronto is highly trained and skilled to build dream offices and retail premises that are sure to amaze your visitors.
The Interhome Construction Inc. Difference
Each project we undertake is reviewed for cost effectiveness.
We promise to complete your project in a timely manner.
With competent builders, we create as little disruption as possible.
We take care of your business needs, investment, & personal space.
We respect your privacy and plans to work around your schedule.
We always return phone calls and emails with a prior response.