February
05
2018
0

Comment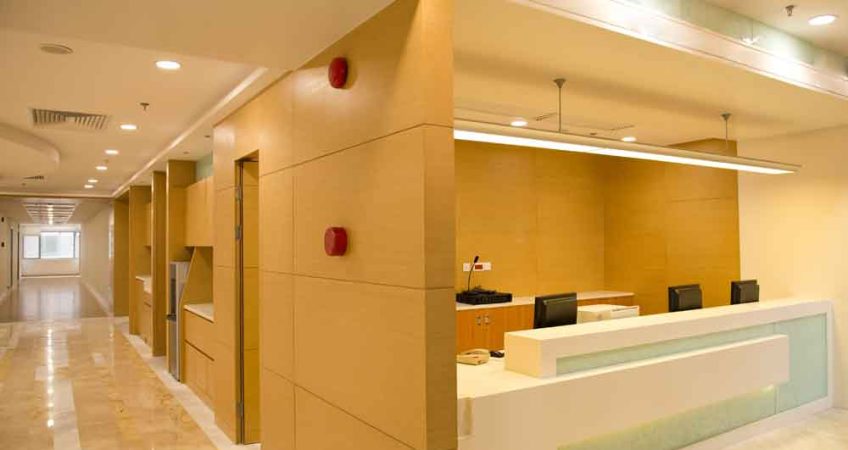 Medical Office Renovations & Design Ideas
The construction of your waiting room, examining rooms, and treatment rooms sets the tone for your medical facility, veterinary or dental practice. Interhome Construction has been remodelling and renovating medical offices in Toronto and the GTA for over 16 years.
They know that building a welcoming environment for patients and employees is key to the success of your medical dental or veterinary practice.
You need a commercial construction company, like Interhome Inc., experienced in building cost-effective, and state-of-the art medical offices. So as to do this, a good construction company will make the most of your budget and building schedule and work closely with architects and designers. Count on expert contractors that are experienced with municipal building codes, time-sensitive permits applications, inspections, and health and safety regulations.
OFFICE RENOVATIONS & DESIGN CONSIDERATIONS
Whether you are remodelling, renovating or building a new medical office, dental office or veterinary clinic they all require specialized knowledge. Your architect or designer will work with you to take into consideration the following:
Space required to operate medical or dental equipment comfortably
Privacy
Handicap accessibility
Patient flow
Ergonomics
Hygiene and hand-washing stations
Lighting, dental lighting, and exhaust fans
Integration of medical systems and software
Pleasant and efficient reception spaces
Floor coverings, work surfaces, and wall covering materials that are easy to clean and sanitize
Flexibility to make future reconfiguring of your spaces easy
 
TRENDS IN MODERN OFFICE DESIGN
Today's modern office includes a blend of beauty, and technology that can enhance your business and workplace culture. To help you with some ideas on what's trending here are a few tips:
Include flexibility together with style in your medical examination rooms and reception area.
Your reception area is the first experience that your patients will have and is a reflection of your Professional services.
While deciding on the details of your client's point of entry take time to consider the needs of your patients as well as your staff
Always include a functional ramp for wheelchair accessibility to your office.
Your reception desk should be inviting to your patients while offering a secure and efficient workstation for staff to manage private and confidential information.
Live- edge wood counters are warm and welcoming. Consider an accessible counter height for people in wheelchairs.
Dropped pendant lighting above the counter together with inset pot –lights in ceilings create an inviting and functional reception
All white cove moulding or coffered ceilings create a modern and stylish blend of tradition
White paint or white material finishes like tiles brighten the space and give a clean professional look
Consider a gas or electric fireplace inset into the wall of the reception area to offer a relaxing sense of wellbeing
Place a large TV/ video monitor above the fireplace to support your marketing program and to make a welcoming and informative space
Sections of wood panelling against a white backdrop creates visual texture and complements a soft browns and taupe colour scheme
Find a construction company that works closely with you, your architects and designers to build and construct these types of specialized medical spaces while ensuring quality construction throughout.
AFFORDABLE MEDICAL, DENTAL AND VETERINARY OFFICE BUILDING AND RENOVATION
Save time and money to keep your building construction costs down. An experienced construction company understands the importance and savings gained when managing the schedule of works and municipal inspections efficiently. Skillful sourcing, ordering and delivery of building construction materials is another way to save money together with the efficient scheduling of multiple trades during the construction process. Your construction company needs to give you their undivided attention and provide you with ongoing updates and respectful sharing of information amongst colleagues.
Interhome Inc. is a construction company that understands that the efficient installation of your specialized equipment involves precision measurements for the equipment cabinetry. Their attention to detail is paramount and always at the top of their mind. Accurate and complete pricing is guaranteed on time to meet budget expectations.
This type of company will constantly strive to save you money and time with innovative building construction solutions. Serving Toronto & the GTA.
Contact us today for a free consultation: 416-574-5556